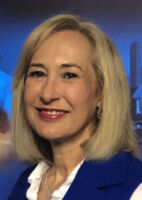 Journalism
Marie Hardin
Dean, Professor
Expertise
Women in Media
Title IX
Sports Journalism
Education
B.A.: Ambassador University
M.A.: Georgia State University
Ph.D.: University of Georgia
Details
Biography
Professor Marie Hardin has been dean of the Donald P. Bellisario College of Communications since July 2014.
Under her leadership, the Bellisario College — one of the largest accredited mass communications programs in the country — has bolstered its reputation for high-quality undergraduate education and broadened its impact as a research and thought leader, thanks to highly collegial and internationally respected faculty.
The Bellisario College was renamed and rebranded in 2017 as a result of a $30 million gift from 1961 alumnus Donald P. Bellisario, and the University also committed an additional $45 million in support of the Bellisario College. Much of Penn State's investment is in the Donald P. Bellisario Media Center, which opened in 2020. The media center brings all departments and majors together to deliver on the Bellisario College's vision to prepare the next great generation of digital storytellers and leaders across the professions.
Hardin has served on numerous University-wide committees and led a variety of collaborative efforts that engage other colleges at Penn State, other institutions of higher learning, and private-sector partners. She served as president of the Association for Education in Journalism and Mass Communication (AEJMC), a nonprofit, educational association of journalism and mass communication educators, students and media professionals, in 2018-19. She also chairs the committee for the Accrediting Council on Education in Journalism and Mass Communication (ACEJMC). She is on the steering committees of the Alliance of Schools and Colleges of Communication and Journalism (ASCCJ) and the Hearst Journalism Awards Program.
Hardin arrived at Penn State in 2003 as an assistant professor and was promoted to associate professor in 2007. In 2009, she was one of four Penn State faculty recipients of the University-wide George W. Atherton Award for Excellence in Teaching. She also was appointed the Bellisario College's associate dean for administration. Hardin was promoted to associate dean for graduate studies and research in 2010, and that same year she was named a finalist for the Scripps Howard Foundation Journalism and Mass Communication Teacher of the Year. She was promoted to professor in 2012.
In the Bellisario College, she has also held leadership roles with the Arthur W. Page Center for Integrity in Public Communication and the John Curley Center for Sports Journalism. She was elevated to associate dean for undergraduate and graduate education in 2011.
Hardin's research has focused on issues of diversity, ethics and professionalism in sports journalism. She is author of more than 60 journal articles and book chapters and is co-editor of a book on sports and digital media, published by Routledge. In 2013, the University of Georgia Grady College of Journalism and Mass Communication named her a distinguished alumni scholar. She co-editor of the Sage journal Communication & Sport.
Hardin has taught classes that focus on sports and society at the undergraduate and graduate levels. As dean, she has taught a large-enrollment first-year class that focuses on personal branding and career preparation.
Before joining Penn State, Hardin taught at Florida Southern College and the State University of West Georgia, respectively. She earned her doctoral degree in 1998 from the University of Georgia and previously worked as a newspaper reporter and editor and as a freelance magazine writer.
Websites
In the News
Contact