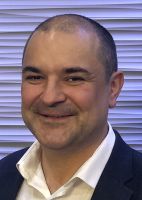 Film Production and Media Studies, Media Studies
Martin Marinos
Assistant Professor
Expertise
Comparative Media Studies
Media Theory
Media History
Political Economy of Media'
Media and Populism
Race and Nationalism
Education
BA-SUNY Binghamton (History)
MA-Florida Atlantic University (Communication)
PhD-University of Pittsburgh (Communication)
Details
Biography
Martin Marinos' research and teaching areas include global and comparative media studies, political economy of media, media theory, transnational television history, critical cultural studies, socialist and postsocialist mass communication, and race and nationalism. Drawing on a multi-method approach that engages with archival sources, ethnographic observation, and in-depth oral interviews with journalists, media managers, and politicians, his forthcoming book, Free to Hate: How Media Liberalization Enabled Right-Wing Populism in Postsocialist Bulgaria (University of Illinois Press 2023), traces how the commercialization of Central and East European media set the stage for the rise of the far-right in the region. His research has also appeared in journals, such as VIEW Journal of European Television, History, and Culture; Digital Icons: Studies in Russian Eurasian and Central European Media; Communication, Capitalism and Critique; Global Media Journal; Social History; Radical Philosophy; and Advances in the History of Rhetoric. At PSU, he teaches International Mass Communication, Political Economy of Communication, and World Media Systems.

Marinos completed his Ph.D. in Communication and earned a Ph.D. Certificate in Cultural Studies at the University of Pittsburgh in 2016. His dissertation, From Socialist Humanism to Neoliberal Populism: Two Regimes of Media in Late and Post-Socialist Europe, was awarded a Mellon/American Council of Learned Societies Dissertation Completion Fellowship in 2015/2016, University of Pittsburgh Andrew Mellon Predoctoral Fellowship in 2014/2015, and an American Research Center in Sofia (ARCS), Bulgaria, Dissertation Fellowship in 2013/2014. Between 2017-19 Marinos was a postdoctoral research scholar in the Harriman Institute at Columbia University where he also taught in the School of International and Public Affairs (SIPA).
Marinos' commitment to theory with practical relevance has led him to pursue other venues of intellectual work, including screenwriting for an award-winning short documentary. The film, Flame, tells the story of a thirty-six-year-old Bulgarian artist and activist who set himself on fire in 2013 as part of nationwide protests against the high electricity and heating prices. The documentary won the Audience Award at the Thessaloniki Documentary Film Festival and was officially selected in numerous other festivals including the San Francisco International Film Festival, the Seattle International Film Festival, and the Guanajuato Film Festival in Mexico. Currently, Marinos is collaborating on a second film about the Bulgarian "Kukeri" mumming tradition and rural impoverishment.
Contact
Martin Marinos
309 Willard Building (Bellisario Media Center)
814-865-2179
mpm6214@psu.edu