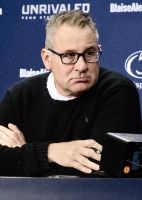 Staff
Michael Poorman
Director of Alumni Relations
Details
Biography
Michael Poorman is director of alumni relations for the Donald P. Bellisario College of Communications, managing programs, events, awards and boards for the College's 27,000-plus alumni. He also teaches COMM 170 Introduction to the Sports Industry. He is a 1982 graduate of Penn State, graduating with distinction with a dual degree in journalism and political science. As director of alumni relations, Poorman works with such College groups as the Alumni Society Board, the Ad/PR Network Alumni Group and the distinguished Carnegie Society. His programs in mentoring, communications and promotions have won University-wide awards.
Poorman teaches COMM 170 Introduction to the Sports Industry, a broad-based course that covers all aspects of the sports landscape, including professional and college athletics, leagues and conferences, the NCAA, PR, marketing, broadcast, media, products and business. He was the original instructor of COMM 476, the capstone sports writing class, when the College founded the landmark John Curley Center for Sports Journalism in 2003, teaching the course for a decade. From 2008-11, he created and taught "Joe Paterno, Communications and The Media," a multi-media case study of sports communications over the past half-century, using Paterno as a benchmark. Poorman has also taught COMM 260W News Writing and Reporting and several freshmen seminars on a variety of topics, including "Branding: Penn State and You" and "Penn State: Your New Hometown."
Poorman is a member of the board of directors of the Penn State All-Sports Museum and its Hall of Fame organizing committee. He is the faculty mentor for the Penn State women's varsity field hockey team. Previously, for eight years he was the faculty adviser for the student encampment at Beaver Stadium (Paternoville/Nittanyville) and is a former member of the board of directors for LaVie, Penn State's student yearbook. He also served on the boards of the Central Pennsylvania Festival of the Arts and First Night State College, and the Mount Nittany Conservancy. Prior to joining the College, he served on its Alumni Society Board and The Daily Collegian's AIG board of directors.
Poorman is a Master's degree student at Penn State, pursing a degree in the History and Philosophy of Sport in the Department of Kinesiology in the College of Health and Human Development.
Poorman was sports editor of The Daily Collegian in 1981-82, when it was named the nation's No. 1 student paper, and a past winner of the Collegian AIG Alumni of the Year. He also served in key editorial roles in a pair of definitive regional history books, as managing editor of "Story of the Century: The Borough of State College," and as technical adviser of "The Collegian Chronicles: A History of Penn State From the Pages of The Daily Collegian." He also was the researcher for the A&E documentary, "Happy Valley." He currently writes a twice-weekly column on StateCollege.com. He is on Twitter @psupoorman.
In the News
Contact
Michael Poorman
College Heights School, #124
814-865-3938
mqp7@psu.edu