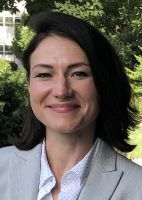 Journalism
Mila Sanina
Assistant Teaching Professor
Details
Biography
Mila Sanina (she, her, hers) is a journalist with 15 years of experience leading and innovating local, national and international newsrooms. Until 2022, Sanina served as the executive director of PublicSource.org, a nonprofit newsroom delivering public-service journalism in the Pittsburgh region at publicsource.org. She led PublicSource to become an internationally recognized independent local news organization known for its high-quality local reporting on issues of environment, police accountability, government, health, education and economic development. Under Sanina's leadership, PublicSource tripled its size, grew its budget from $300,000 to $1.3 million, increased its audience exponentially and has won many state, national and international honors for its journalism, including a National Edward R. Murrow Award and the prestigious international award in General Excellence by the Online News Association in 2020 and 2021.

Before joining PublicSource, Sanina worked at the Pittsburgh Post-Gazette where her last position was the deputy managing editor. In that role, she led innovation in storytelling and integration of print and online operations. Prior to the Post-Gazette, Sanina worked at "The PBS Newshour" and CNN International. She started her reporting career in Central Asia. Sanina was born in the Soviet Union, raised in Kazakhstan and came to the U.S. for the first time as an exchange student in 2005, when she spent a year living on a dairy farm in Chetek, Wisconsin. Sanina became a U.S. citizen in 2020.
Forever a local journalism enthusiast, Sanina joined the journalism department at the Donald P. Bellisario College of Communications in the fall of 2022.
In the News
Contact