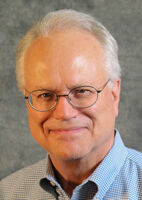 Emeritus
Patrick Parsons
Professor Emeritus
Expertise
Media Ethics
Ethics
Cable Television
Emerging Media Technologies
Education
Bachelor's: California State University at Northridge
Master's: California State University at Northridge
Ph.D.: University of Minnesota
Details
Biography
Patrick Parsons teaches and conducts research in the general areas of media technology and social change, and media ethics and responsibility. His particular research interests include cable television history and operations, emerging media technologies and society, media technology and ethics and normative philosophy.
He is the co-author of "The Cable and Satellite Television Industry." He is also the author of "Cable Television and the First Amendment" and co-editor of "The Journalist's Moral Compass." His scholarly articles have appeared in the Journal of Communication, Journalism Quarterly, the Journal of Mass Media Ethics, the Journal of Broadcasting and Electronic Media, and the Journal of Advertising.
His 2008 book, "Blue Skies: A History of Cable Television," garnered the Picard Award for Top Research Project in the Media Management and Economics Division from the Association for Education in Journalism & Mass Communication. The book has been repeatedly hailed as the definitive history of cable television and an extraordinary achievement. He was named as the inaugural holder of the Don Davis Professorship in Ethics in 2005.
He is on the editorial boards of the Journal of Media Economics and Mass Comm Review and has reviewed manuscripts for the Journal of Communication, the Journal of Broadcasting and Electronic Media, Journalism Quarterly, and the Journal of Mass Media Ethics, among others. He is a continuing reviewer of book manuscripts for several publishing houses. He has been active in the Broadcast Educators Association and the Association of Education in Journalism & Mass Communication, serving as head of AEJMC's Mass Communication and Society division. He has presented conference papers, organized conventions and convention sessions, served as a discussant and paper reviewer across a range of media-related research areas, with a special emphasis on telecommunications issues.
He is a founding organizer of the Academic Research Session at the annual convention of the National Cable Television Association. He also sits on the Library Advisory Council for the National Cable Television Center and Museum. Prior to joining the faculty at Penn State, Parsons was an assistant professor in the Department of Communication at California State University at Fullerton. He earned his Ph.D. in the School of Journalism and Mass Communication at the University of Minnesota, where his work focused on cable television policy and history. Parsons has a professional background in print and broadcast journalism, having worked as a wire service reporter and television news writer in Los Angeles in the mid-1970s.
In the News
Publications
Patrick Parsons (2021). "The Lost Doctrine: Suggestion Theory in Early Media Effects Research." Journalism & Communication Monographs, 23:2.
Contact
Patrick Parsons
105C Carnegie Building
814-863-5678
pp6@psu.edu