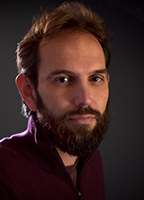 Film-Video
Richard Sherman
Associate Professor
Expertise
Cinematography
Documentary Filmmaking
Experimental Filmmaking
Photography
Education
Bachelor's: James Madison University
MFA: Ohio University
Details
Biography
Richie Sherman teaches intermediate and advanced film production courses. As a director he has completed ten films, two of which are feature documentaries, "From the Black You Make Color" and "No. 4 Street of Our Lady". Collectively they have screened at over 50 film festivals worldwide including the Lucerne International Film Festival, the Oaxaca International Film Festival and the Guangzhou International Film Festival. "No. 4 Street of Our Lady" picked up the Oscar qualifying Grand Jury Prize at the Rhode Island International Film Festival, as well as the Silver Palm at the Mexico International Film Festival and the CINE Golden Eagle Award. "From the Black You Make Color" won the Audience Award at the Rehovot International Women's Film Festival and recently screened at Cannes Film Festival's Doc Corner. He is currently in production on his third feature documentary exploring the topic of UFOlogy, as well as a collaborative long/short documentary tentatively titled, "The Shadow of Franklin Manor". This film follows the residents of a local trailer park and the loss of their homes.
As a cinematographer he has shot more than 40 short films and seven independent feature-length films including, "Bad Girl" (2017), "The Day After Stonewall Died" (2014) which won Best Short Film at the 2014 Cannes Short Film Festival, "Matched" (2013), "SquidMan" (2012) and "The Guatemalan Handshake" (2006).

His awards at Penn State include an individual faculty grant from the Institute for the Arts and Humanities (2010 & 2015), the Deans' Excellence Award for Research and Creative Activity (2007) and the Excellence in Teaching Award (2007) from the Alumni Society Board of the Donald P. Bellisario College of Communications. He was co-recipient of support from the President's Excellence Fund (2009). He is a past recipient of the Virginia Museum of Fine Arts Artists Fellowship and the Ohio Arts Council Individual Artists Fellowship.
In the News
Contact
Richard Sherman
124 Carnegie Building
University Park, PA 16802
814-865-9208
ras49@psu.edu