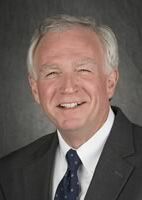 Emeritus
Russ Eshleman
Associate Teaching Professor Emeritus
Expertise
Public Affairs Journalism, Pennsylvania Government and Politics
Education
Bachelor's: West Virginia University
Details
Biography
Russ Eshleman previously served as head the Department of Journalism and taught depth reporting, news media ethics, reporting methods, feature writing and the news practicum.
A former reporter and Pennsylvania statehouse bureau chief with The Philadelphia Inquirer, Eshleman won a Distinguished Writing Award from the American Society of Newspaper Editors in 1992. Two articles honored by that award were reproduced in a 2006 book titled "America's Best Newspaper Writing: A Collection of ASNE Prize Winners."
Eshleman is a graduate of West Virginia University and later worked for the Gettysburg (Pa.) Times, Lancaster (Pa.) New Era and capitolwire.com. His columns on Pennsylvania government were awarded first place in the Pennsylvania New Media Association's annual Keystone Press Awards in 2007.
In the News
Contact