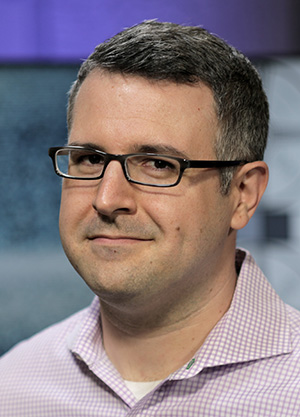 Telecommunications and Media Industries
Scott Myrick
Lecturer, Director of Media Center Operations
Details
Biography
Scott Myrick is a lecturer in the Department of Telecommunications and co-lead of the state-of-the art Donald P. Bellisario Media Center project. His teaching focuses on production and he draws from a wealth of knowledge and experience from a versatile professional background.
Prior to working at Penn State, Scott served as the assistant director of facilities and technology at The Media School at Indiana University. He helped plan, coordinate and install all aspects of technology — ranging from classrooms to the state-of-the-art Ken and Audrey Beckley studio — in the school's new home in historic Franklin Hall.
Scott also worked in television news, first at WNEG-TV, the former CBS affiliate in Northeast Georgia. There he anchored and produced NewsChannel 32 Daybreak and reported from the field for the station's evening newscasts. He later worked as a producer at News 14 Carolina, North Carolina's 24-hour news channel. While there, he launched the 6 and 11pm newscasts on WXLV-TV as part of a innovative production agreement.
Scott graduated from Elon University with a degree in Broadcast Communications in 2006 and was a communications fellow. He helped lead the team that created Phoenix14News (now Elon Local News), Elon's award-winning student-produced newscast.
Contact
Scott Myrick
4D Willard Building (Bellisario Media Center)
University Park, PA 16802
814-865-3068
rsm59@psu.edu