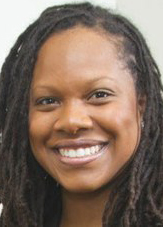 Media Studies
Timeka Tounsel
Assistant Professor
Education
Ph.D.: Michigan
Bachelor's: Syracuse
Details
Biography
Timeka N. Tounsel is an Assistant Professor in African American Studies and Media Studies. The Humanities Institute selected her as a 2020-21 Faculty Scholar in Residence. Tounsel's fields of inquiry include Black (digital) popular culture, audience studies, womanism, and feminist media studies. Specifically, her research considers the stories that mass media tell about Black women, how Black women imagine themselves, and the consequences of these narratives. She has published work on Black women's cultural production in Souls: A Critical Journal of Black Culture, Politics and Society and the Journal of Media and Religion. Her work can also be found in Interpreting Tyler Perry: Perspectives on Race, Class, Gender, and Sexuality and Gladiators in Suits: Race, Gender, and the Politics of Representation in Scandal.
Professor Tounsel is currently completing her first book: Black Girl Magic, Inc: Mass Media and the Business of Black Womanhood. This book considers the insights we gain by approaching Black Girl Magic--a popular idiom that emerged as a hashtag in 2013--as a marketing logic and a media frame. Starting with the Black Power era (mid-1960s) this book shows how corporate brands and media companies appropriated Black women's empowerment as a commercial project. By exploring who has access to Black Girl Magic, under what terms, and who does not, the book clarifies how commercial empowerment projects operate and why they are both momentary and recursive.

Professor Tounsel earned a PhD in Communication Studies and a certificate in African American and Diaspora Studies from the University of Michigan, where she was also a Rackham Merit Fellow. Prior to that, she worked in the magazine industry and has written for Essence and BLAC magazines. She has also served in various administrative roles in higher education, including in diversity, equity, and inclusion; enrollment management; and faculty development.
In the News
Contact
Timeka Tounsel
062P Greenberg Building
University Park, PA 16802
814-865-5239
tnt14@psu.edu