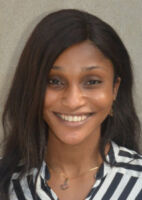 Student-PHD
Timilehin Durotoye
Details
Biography
Timilehin Durotoye is a first year doctoral student. She earned her bachelor's degree and master's degree from the Department of Communication and Language Arts, University of Ibadan, Nigeria.
As a graduate student, she worked as a tutorialaAssistant and taught second and third-year undergraduates on research methodology and academic writing. While in graduate school, she also served as a research assistant with a team of seasoned African scholars at the Partnership for African Social and Governance Research located in Nairobi, Kenya.
Durotoye's research interests broadly lie at the intersection of media studies, digital media, African politics and institutions in new democracies. Her recent studies have explored how digital media tools such as Twitter memes are democratised by African youth to foster critical or public discourses and to exercise their political will.
Recently, she worked in the development sector as a project manager with a local NGO named, LEAP Africa — a youth leadership organization. Her role requires constant engagement with African youth, especially as she develops programs focused on grooming young social entrepreneurs and active citizens, and fostering youth participation in governance and nation building at all levels. In her free time, she can be found reading, planning her next vacation, watching documentaries, sci-fi movies and Korean dramas.
Contact