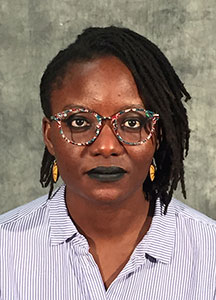 Film-Video and Media Studies, Media Studies
Wunpini Fatimata Mohammed
Lecturer
Education
Bachelor's (First Class Honors): University of Ghana
Master's: Michigan Technological University
Ph.D.: Penn State (Mass Communications & Women's, Gender & Sexuality Studies minor)
Details
Biography
Wunpini Fatimata Mohammed teaches world media systems and international mass communications at the Bellisario College of Communications.
She has worked on research projects on the corporate social responsibility work of telecommunications companies in Ghana, radio news production and reception in Northern Ghana, digital media activism among others.
She is currently working on projects that examine the political economy of film in Northern Ghana. Among other things, her research interests focus on feminisms, development communication, broadcast media, new media and film.
Publications
Academic Publications
Mohammed, Wunpini Fatimata. (2019), 'Journalistic griots: The marginalization of indigenous language news and oral epistemologies in Ghana', Radio Journal: International Studies in Broadcast & Audio Media, 17:2, pp. 235–252, doi: 10.1386/rajo_00007_1
Mohammed, Wunpini Fatimata. (2019). Deconstructing Homosexuality in Ghana. In Routledge Handbook of Queer African Studies. Nyeck, S. N. (ed.). Routledge, NYC.
https://www.routledge.com/Routledge-Handbook-of-Queer-African-Studies-1st-Edition/Nyeck/p/book/9781138503472
Mohammed, Wunpini Fatimata. (2019). "Online Activism: Centering Marginalized Voices in Activist Work" Ada: A Journal of Gender, New Media, and Technology, No. 15. 10.5399/uo/ada.2019.15.2
Mohammed, Wunpini Fatimata., Xiao, Anli., & Hilton, Erica. (2019). "A Critical Analysis of Corporate Social Responsibility in Ghana's Telecommunications Industry." Communicatio: South African Journal for Communication Theory and Research. doi: https://doi.org/10.1080/02500167.2018.1552601
Research Reports
Mohammed, W. F. (2018). Nana Akufo-Addo: Putting Marginalised Women on the Agenda in Ghana? CDD West Africa, 6(4), 11-17. Retrieved from: https://cddelibrary.org/wp-content/uploads/2018/10/New-Leaders-New-Direction-Vol-6.-No-4_2018.pdf
French translation available here: https://cddelibrary.org/wp-content/uploads/2018/11/Nouveaux-Dirigeants-Nouvelles-Directions_Vol-6.-No-4.-2018.pdf
Blogposts
Wunpini Fatimata Mohammed. (2018, October 15). The Northern Smock. Cultural Analysis. https://popula.com/2018/10/15/the-northern-smock/
Wunpini Fatimata Mohammed. (2018, July 9). Unemployment and the Rise of Neoliberalism in Ghana. Opinion Piece. https://africasacountry.com/2018/07/unemployment-and-the-rise-of-neoliberalism-in-ghana
Wunpini Fatimata Mohammed. (2018, December 11). The forgotten kingdom. Documentary Film Review. https://africasacountry.com/2018/12/the-forgotten-kingdom
Wunpini Fatimata Mohammed. (2018, March 26). 10 Reasons Why Tamale is the Music Capital of Ghana. Industry Review. http://www.okayafrica.com/ghana-music-tamale-10-reasons-capital/
Wunpini Fatimata Mohammed. (2018, June 22). This Is How Muslims Observe Ramadan, Tiila and Eid al-Fitr in Tamale. Cultural Analysis. http://www.okayafrica.com/ramadan-tiila-eid-al-fitr-tama-ghana/
Contact
Wunpini Fatimata Mohammed
41 Greenberg Building
University Park, PA 16802
814-865-2179
ffm5032@psu.edu