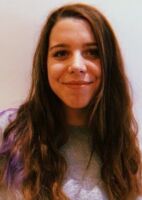 Student-PHD
Yasemin Beykont
Education
Master's: UW-Milwaukee
Bachelor's: Istanbul Bilgi University
Details
Biography
Yasemin Beykont graduated from Bilgi University in Istanbul, Turkey with BA degrees in European Studies and in Public Relations. She completed her MA in Media Studies at UW-Milwaukee.
She served as the managing editor of the Journal of Information Policy between 2020 and 2022. Her research interests include advertising criticism, the critical political economy of media, meme studies, and popular culture. She is particularly interested in exploring and exposing the ways that memes are appropriated for advertising to serve capitalist interests. She has been presenting her work at conferences of ICA, NCA, AEJMC, AFS (American Folklore Society), and TPRC.
Websites
Publications
McAllister, M. P., Nutter, A., Beykont, Y., & Forde, S. (2022). Advertising and promotion. In K. Gabbard (Ed.), Oxford Bibliographies Online in Cinema and Media Studies, Rev. Ed. New York: Oxford University Press.
Beykont, Y. (2021). [Review of the book Communicating with Memes: Consequences in Post Truth Civilization by Grant Kien] Mass Communication and Society, doi: 10.1080/15205436.2021.1885265
Contact