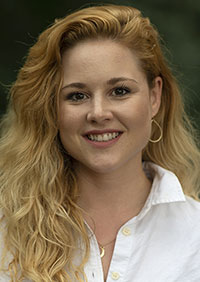 Student-PHD
Ashley Walter
Doctoral Candidate
Education
B.A. Integrated Marketing and Communication // Broadcast Journalism, Duquesne University
M.S. Media Arts and Technology, Duquesne University
Details
Biography
Ashley Walter is originally from Williamsport, Pennsylvania, but spent over a decade in Pittsburgh. Following her undergraduate degree at Duquesne University, she worked at the Pittsburgh City Paper, an alternative-weekly newspaper. In 2017, she graduated from Duquesne's media department with an M.S. in media arts and technology. Her master's thesis interrogated how Rolling Stone magazine covers frame politics and complicate the distinction between entertainment and news journalism. As a doctoral student, Walter's research interests primarily include journalism history and women's labor. Her dissertation looks at sex and race discrimination in U.S. newsrooms during the 1970s. Beyond academics, she enjoys folk music, historical fiction, playing guitar, and travelling, but spends the majority of her time attempting to create peace between her two cats.
Publications
Walter, Ashley. "On the Cover of the Rollin' Stone: How Rolling Stone Magazine Frames Politics and News." Journal of Magazine Media 19, no. 2 (December 2019): 25-49.
Walck, Pamela and Walter, Ashley. "Soaring Out of the Private Sphere: How Flyin' Jenny and her Comic Strip Helped Pioneer a New Path for Women's Work During World War II." Journalism History 44, no. 4 (2019): 195-206.
In the News: Journalism History Podcast, https://journalism-history.org/2019/01/08/walck-walter-podcast-flyin-jenny-comics-and-womens-work/
Contact
Ashley Walter
Graduate Office
University Park, PA 16802
aaw222@psu.edu