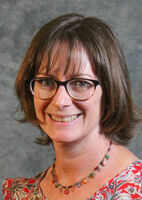 Film Production
Maura Shea
Associate Teaching Professor, Associate Head of Department of Film Production & Media Studies
Expertise
Film Production
Producing
Editing
Sound Design
Education
Bachelor's: University of Pennsylvania
Master's: Boston University
Details
Biography
Maura Shea boasts experience as a producer, sound designer and editor on projects ranging from independent feature films, such as "Ripped!" and the soon-to-be-relaeased "Spooky Action" to award-winning documentaries, such as "Malcolm X: Make it Plain."
A former lecturer of film production and sound design at Boston University's College of Communication, she wrote, directed and produced the award-winning short drama "Under Control." She also worked in corporate video production in New York as an associate producer.
She teaches producing, post-production and beginning to advanced film-video production. She and her husband, Rod Bingaman, also an associate teaching professor in the Department of Film Production & Media Studies, operate a production company, Ma & Pa Pictures, which has produced five feature-length films to date utliizing the talents of former and current students in front of and behind the camera.
Websites
In the News
Contact
Maura Shea
310 Willard Building (Bellisario Media Center)
814-865-1679
mes19@psu.edu