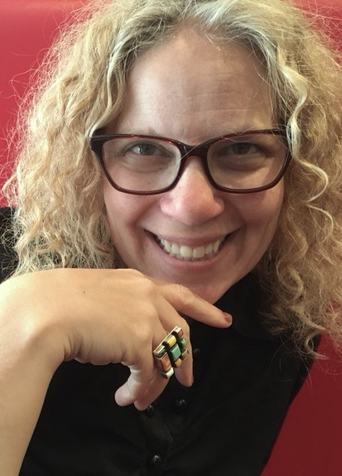 Film Production
Pearl Gluck
Donald P. Bellisario Career Advancement Professor, Associate Professor
Education
Bachelor's: Brandeis University
MFA: City College of New York
Details
Biography
A filmmaker with a mix of professional and teaching experience, Pearl Gluck joined the Donald P. Bellisario College of Communications faculty in 2014. Gluck teaches screenwriting, directing, producing and through her courses and her films she explores themes such as autobiographical film and representations of gender, class, and faith in cinema.
Gluck is currently in post-production on her short film, Castles in the Sky, starring Lynn Cohen. Her feature film, The Turn Out (2018), which blends documentary and fiction storytelling to address the underreported issues of domestic sex trafficking at truck stops, is currently screening at film festivals and won Best Debut Feature at the Female Eye Film Festival in Toronto, Canada, as well as the American Tracks Music Award for the film's title song, Heaven Spelled Backwards. She was awarded a 2000 Sundance Producer's Lab fellowship and a 2001 Sundance Festival mentorship for Divan (2004), her first documentary film. Her short film, Summer (2018), playing the festival circuit, won Best Short film through Film Movement and the San Francisco Jewish Film Festival. Divan (2004) was broadcast on the Sundance Channel, theatrically premiered at the Film Forum in New York and played at festivals around the world.
Her short film, Where Is Joel Baum (2012), starring Lynn Cohen won various awards at festivals including Best Film at The Female Eye film festival and Best Actor for Luzer Twersky at the Starz Denver Film Festival. In July 2011, she was a contributing producer for WTIU, the Indiana PBS affiliate and reviewed the Midwest Best Biker Fest. She released Soundwalk: Williamburg in 2007 on Paris Premiere, and won an Audie Award for the project. Her first short film that she co-wrote, Goyta (2007) premiered at Cannes, and she co-directed and co-produced the award-winning short, Great Balls of Fire (2001) which screened at Transmediale, Oberhausen, European Media Arts Festival, Ocularis, the New York Video Festival at the Film Society of Lincoln Center, and the DIG.IT Festival at the Walker Center for the Arts.
In 1996 she received a Fulbright grant to Hungary to collect Hasidic stories. Gluck has been interviewed about her work on NPR with Melissa Block, WBUR's The Connection with Chris Leiden in Boston and produced for WBAI. She has appeared in A Life Apart: Hasidism in America (1998; Directed and Produced by Oren Rudavsky and Menachem Daum). In 2016, along with Film/Video students and MFA Theater alum, Elle Jae Stewart, Gluck directed Junior, an award-winning film which looks at racially motivated police violence through one mother's eyes.
Gluck previously taught at Ohio University, Indiana University, Emory University and Rutgers University. She has taught courses on screenwriting, production, directing, film criticism, film studies and Jewish studies. She has also conducted independent studies for graduate and undergraduate students, and has advised thesis projects.
Websites
In the News
Publications
Contact
Pearl Gluck
105 Carnegie Building
University Park, PA 16802
pxg28@psu.edu