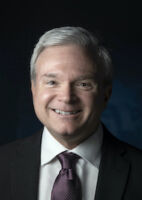 Journalism
Steve Kraycik
Associate Teaching Professor, Director of Student Television
Expertise
Television News
TV Storytelling
Education
Bachelor's: Kutztown University
Details
Biography
Steve Kraycik joined Penn State in 2012 after crafting an impressive career as a news manager and producer with three decades of experience in television news.
Kraycik spent a decade as a top-20 market News Director at TV stations in Sacramento and Seattle. He also served as Assistant News Director at KOMO-TV in Seattle and WFTS-TV in Tampa, as well as Executive Producer in Orlando. Before that, he spent more than 10 years as a news producer and writer at stations on the East coast, including affiliates in New Hampshire, Rhode Island and Florida. He's a native of Allentown, PA, and his first news experience was in his hometown at WFMZ-TV as the station's first news producer.
In 2012, Kraycik returned to Pennsylvania as Director of Student Television at Penn State. In this role he teaches Donald P. Bellisario College of Communications students all aspects of TV news, and he supervises "Centre County Report," a student-produced newscast that airs in 29 Pennsylvania counties. Under his leadership, the Centre County Report student staff has won numerous awards, including two national college Emmys, multiple regional Emmys, and awards from SPJ and the Associated Press. Centre County Report has been named the best college newscast in the nation four times (by the Society of Professional Journalists, Broadcast Education Association and the College Television Awards).
Among Kraycik's memorable experiences in TV news are field producing coverage at three Super Bowls and a presidential inauguration in Washington DC, and producing a governor's debate moderated by the late NBC news legend Tim Russert. Kraycik has spent 35 years working with hundreds of anchors, reporters, producers and students to improve their craft and advance their careers.
In the News
Contact
Steve Kraycik
205 Willard Building (Bellisario Media Center)
814-865-2802
spk17@psu.edu