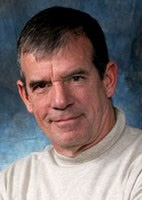 Advertising/Public Relations
Steve Manuel
Associate Teaching Professor
Expertise
Crisis Communications
Media Relations
Public Relations Methods
Education
Bachelor's: Penn State
Master's: Penn State
Details
Biography
Steve Manuel is a former public affairs officer for the Office of the Secretary of Defense and Marine Corps spokesman. His primary duty, when not responding to media queries, was writing public affairs guidance for field commands of all the military services for response to any questions from the press on exercises, operations and specific events. He was responsible for the Western Pacific region, which included China, the Korean Peninsula, Japan, the National Security Agency, and POW/MIA Affairs.
He served in many locations throughout the world, including Hawaii, Vietnam, Pennsylvania, Virginia, North Carolina, Florida, and New York.
As a photojournalist, he has won numerous photographic and writing awards. He teaches introduction to public relations, public relations methods and problems, crisis communications, and first-year seminars in war reporting and ethics in photojournalism
Manuel is an active photographer with the university where he photographs many of the University's Division I sports teams. His photographs have been published in more than 115 publications. They include USA TODAY, Sports Illustrated, The New York Times, The Philadelphia Inquirer, Athlon Sports, Volleyball Magazine, Blue/White Illustrated, Navy Times, Spectrum Sports Magazine, and many university and Penn State Alumni Association publications, calendars, posters, and brochures. He also photographs for Associated Press wire services. He has participated as a photographer in major USO Show tours to the Balkans, Okinawa/South Korea, Guantanamo Bay, Cuba, Kuwait, Afghanistan, and Iraq with comedian/actor Dane Cook in June 2008, seven PGA golfers for Thanksgiving 2008, and Stephen Colbert in June 2009. He recently returned from Qatar, Bahrain, and Abu Dhabi with actors Kate Walsh (Grey's Anatomy) and Kal Penn (House) in May 2013.
Websites
In the News
Publications
Contact
Steve Manuel
9 Carnegie Building
University Park, PA 16802
814-863-6418
sgm103@psu.edu