Student Computer Information
Student Computer Support CLICK HERE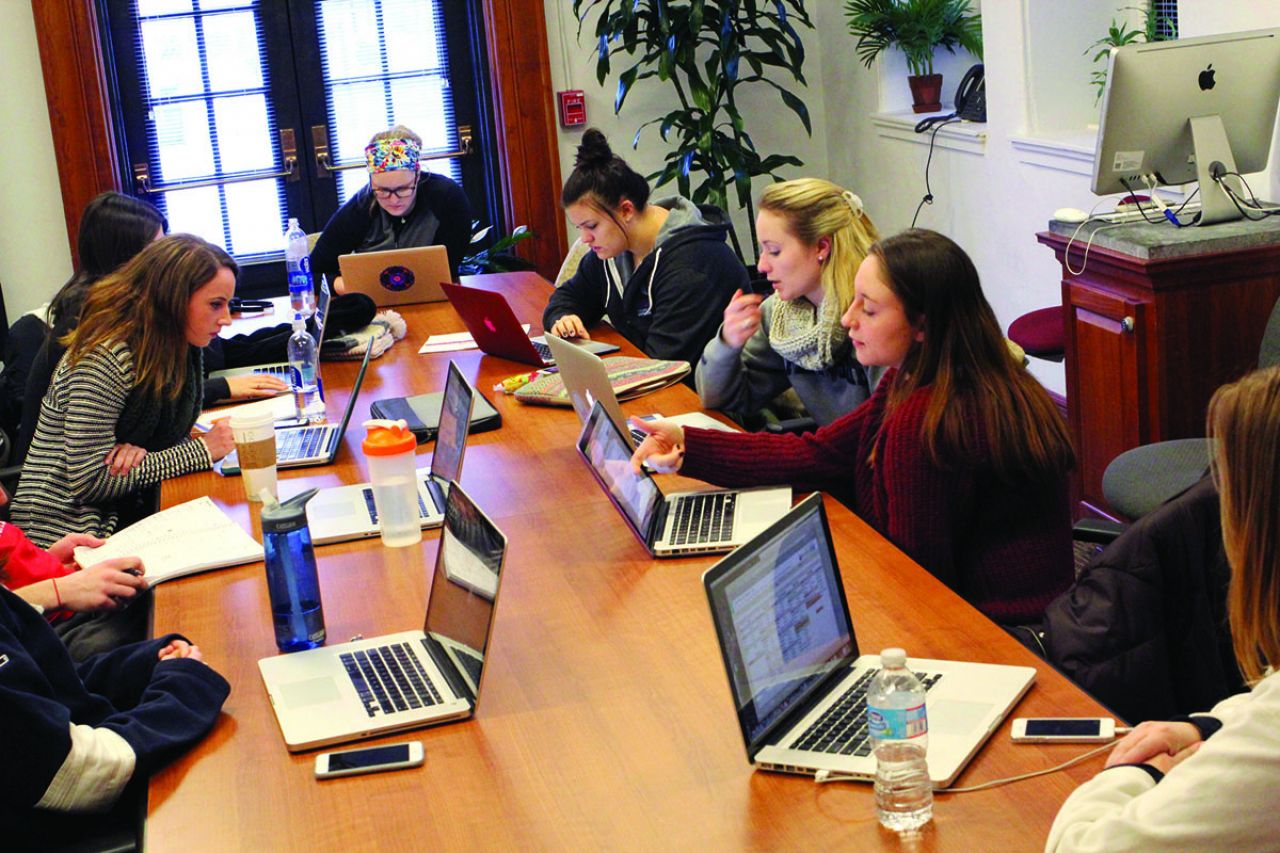 Students majoring in advertising/public relations, film production, journalism and telecommunications and media industries are required to have a laptop when they officially enter their major. For most students, this is the spring semester of their sophomore year or fall semester of their junior year.
We recommend that students purchase a current generation of the Apple Macbook Pro. Laptops running Windows operating system that meet the minimum specification posted below are acceptable. However, iPads, Netbooks, Chromebooks, iOS or Android devices are not.
Purchasing Your Computer
The minimum specifications on this page will be updated at least once a year during June or July. We recommend that students do not buy any new computer hardware or software until a month before the start of classes. This is to maximize the warranty and longevity of the purchase(s).

Our recommendation leans in favor of the 16" MacBook Pro line is because of the additional external connectivity and larger screen size.
If you're interested in taking classes in multiple area of study, you may wish to aim for higher specifications to cover multiple uses.
Depending on the manufacture and/or laptop model, some components are not upgradable after the purchase.
Helpful Tips
For Apple laptops a high number of processing 'cores' will shorten processing and rendering times.
Generally, the more memory (RAM) your system has the faster your programs will run. If given a choice, invest more money in RAM than hard drive – you can generally purchase hard drive capacity with an external drive in a most cost-effective manner. 
More storage will allow for more applications and data to be installed and located locally on the laptop.
Additional GPU cores will aid in performance when working with multi-media files. To learn more please visit: https://helpx.adobe.com/premiere-pro/system-requirements.html
Suggested Laptop Specifications
APPLE / 16-inch MacBook Pro
M2 Pro 12-core
32 GB
512 GB SSD
19-core GPU
PC / Lenovo P1 Gen 5, Lenovo X1 Extreme, Dell XPS 15 or XPS 17
12th or 13th generation Intel i7 or AMD equivalent
32 GB
512 GB SSD
Nvidia GeForce RTX 3070 or higher, or Nvidia Quadro RTX A3000 or higher
Using an Existing Laptop
If you own a laptop that meets the following specifications, you may be able to use it at the school. The minimum specifications are:
Fewer than three years old
Processor: Quad-core Intel Core i7 or better
Memory: At least 8GB RAM
Storage: At least 256GB SSD or more preferred
Software
All students get FREE access to Adobe Creative Cloud and Microsoft Office 365 and it can be installed on many different devices. To learn more:
Other software requirements vary by major, and some software can be downloaded for free or at a discount. Visit software.psu.edu for more information.
Additional Software by Major
Optional (Free): Arc Studio Pro, Celtx, DaVinci Resolve
Optional (For a fee): Avid Media Composer, Final Draft
Peripherals
An external hard drive is required to store your projects and move them between your laptop and other workstations.
Recommended Specifications
Solid State Drive
Minimum 1TB storage capacity
USB 3.1 (or faster) connection
Useful Links
Please contact BellisarioIT@psu.edu if you have any questions about the information on this page.