Don Davis Program in Ethical Leadership
About Don Davis Jr.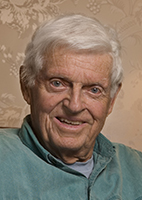 Donald W. Davis Jr., a Penn State alumnus and the retired chairman and CEO of Stanley Works who died in 2010, spent his life emphasizing "doing the right thing." That concept guided Davis during his years at Stanley Works, one of the largest international manufacturers of builders' hardware and tools. Under his leadership, Stanley grew to a "Fortune 200" company. In addition, for 16 years, Davis taught courses in ethics and leadership at Massachusetts Institute of Technology.
Establishing an endowed professorship in ethics was one of a series of gifts to the Donald P. Bellisario College of Communications by Don Davis, who graduated in 1942 with a degree in journalism and in 1972 was named a Distinguished Alumnus of Penn State -- the highest honor the University bestows upon its alumni. The award salutes the achievements of outstanding alumni whose "personal lives, professional achievements and community service exemplify the objectives of their Alma Mater."
Davis previously endowed the Bellisario College's student chapter of the American Advertising Federation, the Donald W. Davis Mass Communications Fund, the Davis Symposium in Advertising Ethics and a Trustee Scholarship in the name of his sister, Maralyn Davis Mazza. He also provided funds to establish the Donald W. Davis Advertising Lab.
"Establishment of the professorship in ethics is the result of the convergence of a number of factors," said Davis, who cited his father's legacy of emphasizing ethics and his own teaching experience. He also noted the commitment of the adminstration and faculty of the Bellisario College, across all departments, to maintaining a high ethical standard.
"There has been an increased interest and attention of society generally concerning ethical behavior, resulting from the excesses of the dot-com revolution, recent corporate scandals and excessive executive compensation," Davis said. "Ethical dilemmas exist every day for communicators, from the always present tensions between news and partisan opinion to the conflict between a communicator's own sense of social responsibility and the motivation for commercial success."