Tweet
Follow @ThePageCenter
4th annual Page Center Awards honor leaders of integrity Foreman, Hardage and Kean
February 20, 2020 • Jonathan McVerry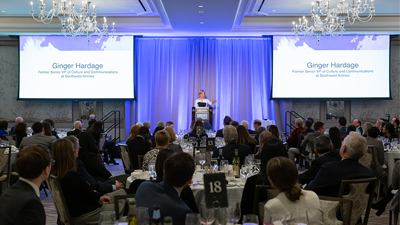 Principles and culture were themes at the Arthur W. Page Center Awards in New York City on Wednesday night. Three leaders whose career-long commitment to integrity were honored at the fourth annual awards dinner.
This year's honorees were Gene Foreman, former managing editor of the Philadelphia Inquirer; Ginger Hardage, former senior VP of culture and communications at Southwest Airlines; and Thomas Kean Sr., former New Jersey governor.
Page Center chairman Bill Nielsen and Donald P. Bellisario College of Communications dean Marie Hardin hosted the fundraising event, which was held at the Intercontinental Barclay Hotel in Manhattan. Nielsen and Hardin emphasized the need for integrity in today's media while echoing the Center's mission to enhance responsibility and ethics in public communication.
Page Center director Denise Bortree shared some of the Center's on-going initiatives and projects, while explaining its vision to integrate its efforts with the needs of industry practitioners.
"This is one of my favorite nights of the year," Bortree said. "We are surrounded by leaders in the industry who value and make integrity a priority in their work."
Each honoree received a Larry Foster Award for Integrity in Public Communication for holding longstanding values throughout their careers. In addition to the journalism, public relations and business sectors, this year was the first time a leader in public service, Governor Kean, was recognized.
In his remarks, Kean shared his experience facing a crisis while governor of New Jersey in the 1980s. The story was a case study of how transparency, communication and integrity can limit the catastrophic effects of a crisis. He stressed the need for truthful communication from corporations and news media.
"Can we have a functioning democracy if we don't have a believable source where people get their news?" Kean asked the audience of nearly 200 communicators.
Hardage lit up the stage with her stories of creating culture change at Southwest Airlines. She spoke about and thanked the "beacons" that helped guide her way throughout her career. She also discussed the importance of principles—echoing some of the Page Principles like "conducting public relations as if the whole enterprise depends on it" and "listening to stakeholders."
"Integrity is about undivided truths, instead of the half-truths," Hardage said.
The first honoree of the night, Foreman, gave an inspiring speech about media's evolution through the digital age. Pulling from his award-winning career in newsrooms that spanned decades, time in the classroom teaching future journalists and editors, and penning the book on journalism ethics, Foreman's poignant remarks were an inspiration.
"In a time of exponential change, we continue to rely on a timeless principle," Foreman said.
This was the fourth installment of the annual event. In 2017, the honorees were Ann Barkelew, Alan Murray and Martin. In 2018, the Center honored Bill George, Gwen Ifill and John Onoda. Dean Baquet, Jack Rowe and Marylin Laurie were the honorees of last year's event. Each year, the Center welcomes another class of honorees who personify integrity, lead ethically and inspire current future communicators.
Learn more about previous years' events here.
Larry Foster founded the Page Center in 2004 with fellow public relations legends Jack Koten and Ed Block. The awards program was created to honor communicators who share in Foster's vision. Funds raised from the event support innovative research and educational programs by the Page Center.