Tweet
Follow @ThePageCenter
Fauci, Woodruff, Robinson and Heyman honored at fifth annual awards
February 25, 2021 • Jonathan McVerry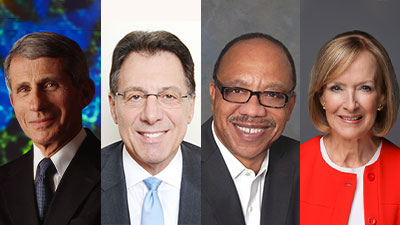 The discussions at the fifth annual Page Center Awards were as inspirational as they were timely. This year's class of honorees shared stories, principles, advice and reflection during the virtual event on Feb. 24.
Honorees were Dr. Anthony Fauci, NIAID director; Judy Woodruff, anchor and managing editor of PBS Newshour; Eugene Robinson, Washington Post columnist and editor; and Bill Heyman, CEO of Heyman Associates.
Click here to relive the 2021 Arthur W. Page Center Awards.
The awards ceremony was much different than prior years. Instead of a dinner in New York City, it was virtual. But hosting the event online allowed the Page Center to welcome a global audience. It beamed our country's most respected and trusted communicators to hundreds of students, young professionals, faculty, executives and the public.
Viewers from more than 100 companies and 75 colleges and universities tuned in. Page Center advisory board chairman Bill Nielsen and Marie Hardin, dean of the Donald P. Bellisario College of Communications at Penn State, hosted the event.
Watch the Page Center video that debuted during the awards event.
Starting the evening off was Dr. Fauci. Nielsen introduced the nation's top infectious disease expert and presented him with the award. Dr. Fauci spoke from his many professional perspectives – scientist, physician, public servant – and said each role has taught him lessons that he applies when communicating with the public. In other words, the "Fauci Principles."
All of Dr. Fauci's principles were based around clarity of message, understanding the facts, knowing the audience and empathy. Nielsen and Dr. Fauci discussed some aspects of those tenets and how they pertain to communicating science.
"The purpose of communication by a scientist is not to show how smart that you are," Dr. Fauci said. "It is to have people understand what you're talking about."
He added, "Do not exaggerate or minimize. Never guess. Never, ever be intimidated or pressured into agreeing with something that you do not believe is true."
Dr. Fauci echoed a principle he was taught in high school that he still applies today: "When communicating, remember the tenets of precision of thought and economy of expression."
Following the discussion with Dr. Fauci, Heyman was honored by board member Charlene Wheeless, senior advisor for equity and justice at APCO Worldwide. Both are colleagues and friends, and they discussed companies addressing social justice issues and the role of communication in leadership.
"There have been three particular points of inflection over the past year," Heyman said. "One is COVID. The second one is the murder of George Floyd and the third one was the insurrection at the Capitol."
He added, "I think that CEOs do a great job at running businesses, but they did not know how to handle these things. So, it was really important, for communicators to be able to let them know how."
Heyman also shared a personal story about the award's namesake, Larry Foster.
"Larry gave me a shot to do a search when I was a very young recruit," Heyman said. 'What I remember about Larry is he was smart, kind, and fair and honorable. That experience made tonight even more special."
Advisory board member Sandra Clark, vice president for news and civic dialogue at WHYY, led the discussion with Robinson. The two journalists covered many topics and issues facing the industry today, particularly how to combat disinformation and enact reform following the killing of George Floyd in May of 2020.
"I still believe, and I still want to believe, that truth wins in the end," Robinson said. "The truth is out there, and we have to call [disinformation] out. Yet…it isn't working."
Robinson said that many efforts to combat misinformation were "uninformed and scattered," but was happy to see that the Page Center was up for the challenge, and he wished it luck.
"I wish truth was doing better than falsehood, but I can't say it is right now,' Robinson said. "We can just tell the truth and be as honest as possible knowing that it doesn't solve the problem, but it's what's in our power to do."
Woodruff was introduced by Page Center advisory board member Gary Sheffer, the Sandra R. Frazier professor of public relations at Boston University. During their Q&A, Woodruff shared insights on working through hostile times and serving as a mentor for many women in the industry.
"We are at a tumultuous moment in journalism," she said. "We are dealing with a completely upside-down business model, political polarization, the challenge of looking at ourselves when we need to look like the rest of America. We have a long way to go."
Woodruff said she is counting on and has faith in the younger generation of journalists. "I know they're out there. They are being educated right now at the Bellisario College."
To those future journalists, Woodruff said, "Keep going. Keep asking the right questions. We are the eyes and ears of the American people. We need to hold it together, because we are holding it together for democracy."
Each honoree received a Larry Foster Award for Integrity in Public Communication, which recognizes professionals who exemplify the importance of truthful communication with the public. What makes this award particularly unique is that it represents a number of fields — journalism, public relations, the public sector, and health – under shared principles of integrity and truth-telling.
"All of us in the many disciplines of communications are at the center of this very important time in history with the skills and the values to help find the way forward," Nielsen said. "This is a huge responsibility. Tonight, we have recognized and honored iconic individuals who are richly deserving of public trust. Let's follow the examples they have set."
Thanks to the support of many sponsors, the event was free and open to the public. Special thanks to the Platinum Sponsors – AARP, Johnson & Johnson, Merck and Robert Wood Johnson Foundation Special Contributions Fund of the Princeton Area Community Foundation. Learn more about these sponsors on the event site.
A video of the event will be released soon.
This was the fifth installment of the annual event. In 2017, the honorees were Ann Barkelew, Alan Murray and Martin. In 2018, the Center honored Bill George, Gwen Ifill and John Onoda. Dean Baquet, Jack Rowe and Marylin Laurie in 2019. Last year, the Center added Gene Foreman, Ginger Hardage and Tom Kean, Sr. to the Larry Foster Award honor roll.
Learn more about previous years' events here.
Larry Foster founded the Page Center in 2004 with fellow public relations legends Jack Koten and Ed Block. The awards program was created to honor communicators who share in Foster's vision. Funds raised from the event support innovative research and educational programs by the Page Center.