Tweet
Follow @ThePageCenter
Foster Award honoree Dick Martin pens book on colleague and fellow honoree Marilyn Laurie
October 21, 2020 • Jonathan McVerry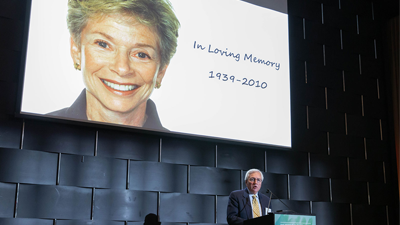 Dick Martin is the former executive vice president of public relations at AT&T. In 2017, he was part of the inaugural class of Larry Foster Award honorees. In 2019, he returned to the Page Center Awards to posthumously honor his colleague, friend and predecessor at AT&T Marilyn Laurie. Laurie was a public relations pioneer who has been a role model in the industry for decades. She passed away in 2010.
Martin researched and wrote a book about Laurie, which the Museum of Public Relations published last month. "Marilyn: A Woman in Charge" chronicles Laurie's professional journey from answering an ad in a newspaper to becoming a trailblazing woman in an industry of men. It's an inspiring story for all, particularly public relations students who are interested in taking on challenging tasks, the role of values in a company and how confidence and integrity can power one's way to the top.
Below is some insight on the book from an interview with Martin conducted by the Page Center.
Over the years, you've spoken and written smaller pieces about Marilyn Laurie and her role as a leader and pioneer in public relations. At what point did you realize you had a book on your hands?
It happened when the Museum of Public Relations held its conference in New York to honor women in PR history. At first, I thought I could talk about Marilyn for 15 minutes and that won't be a problem. But I decided that rather than just tell old war stories, I could do a little research. I quickly discovered that her life was a lot more complicated than I realized...and that it was literally bookended by sexism from her very first day on the job to the days just before she got her ultimate job. I spoke about that at the conference, and Barry Spector from the Museum of Public Relations, asked if I thought about writing a book.
I spoke to Marilyn's family and after six months of digging, I decided it would be an interesting story…a second-generation immigrant living in the period Marilyn lived in. She went to college in the late 50s when the feminist movement was just beginning. In the 60s, she was a young mother with two daughters and political turmoil was literally happening outside her window. It bummed her out that she wasn't a part of it. She saw a small ad asking for people to help celebrate "Earth Day" in New York. She answered it, and that experience attracted her to a job with AT&T.
In your remarks about Marilyn at the Page Center Awards, you said she thrived when things got tough and she found challenging times more interesting. After closely researching Marilyn, does that still hold up? Does that sentiment define her career?
Yes, in a sense it did. She said the moment she got into a position where she could make a difference at the whole company, you could hear the foundation of the company cracking beneath her feet. When she went to Bell Labs, she became friends with Arno Penzias (Nobel Laureate and discoverer of the Big Bang Theory). Penzias told her the most interesting work is when you find a really good problem, and Marilyn was in perfect sync with that image. She was happiest when she was dealing with a big problem. Even at the expense of being associated with problems, she ran toward them.
That seems like a great example of Marilyn's integrity. The fact she is willing to risk going into tough situations to take on challenges. Did she ever overtly talk about integrity and values? Or did she just live it?
She talked about values. She was deeply involved in the publication of AT&T's values, which was called our "common bond." She had a unique perspective. She said that she didn't think that by the time somebody went to work for the company, you could teach them values. If they were intelligent enough to get a job, they've already acquired some kind of values. You were not going to teach them something new. However, you could show them what it looks like when you are following the company's values. Sure, every company says they respect individuals, but what does that mean in practice? What does it look like? That's what she focused on.
What was it like digging through the AT&T archives? What did you find?
In the archives, I found a hell of a lot of memos.
How do you fit memos into writing a book? What did you learn?
There were disagreements that I didn't realize existed. I saw Marilyn's never-ending search for the company's mission. When she joined AT&T, it had a clear mission. It was called "universal service," and the mission was to put a telephone at everybody's reach. Everybody understood that.
AT&T spun off the local telephone companies and no longer had end-to-end responsibility for phone calls. All they had was long distance…and they began to flounder because they didn't understand their mission anymore. So Marilyn set off on a quest like Don Quixote looking for the company's mission. This started in 1987. And when she retired in 1998, she wasn't sure if she cracked the code. Marilyn was great at writing longhand notes to herself, and they gave real insights into how she fought…and thought things through. She always looked at things from a unique angle. She saw aspects of an issue that many of us didn't think of.
What would Marilyn tell today's public relations students?
She would tell them: Don't be afraid to get to a point where you honestly consider yourself a peer of the people you're counseling. You have to have the courage to tell them what you think. Marilyn thought her job was to be a bridge to the outside world for the senior executives at AT&T… and to equip the people who report to her to be bridges to the outside world. She knew very little about public relations. She had to figure it out. She would ask, "What is it I'm supposed to be doing here? What is the purpose of public relations?" The conclusion she came up with was that the purpose of the public relations job is to help the company balance its policies and practices with the needs and expectations of its publics.
Dick Martin has written several books, many on ethics in the industry, including "Tough Calls: AT&T and the Hard Lessons Learned from the Telecom Wars" and "OtherWise: The Wisdom You Need to Succeed in a Diverse and Divisive World." He has also co-authored other books and has published articles in such publications as the Harvard Business Review, Chief Executive and the Journal of Business Strategy. His latest book, "Marilyn: A Woman in Charge," is available on Amazon.