Tweet
Follow @ThePageCenter
Remarks from the Page Center Awards by advisory board chair Bill Nielsen
February 28, 2017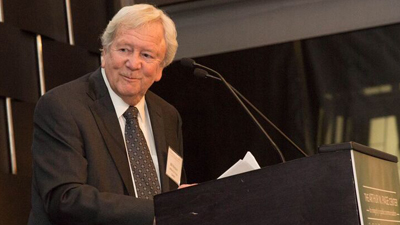 Ladies and gentlemen, good evening and welcome to the Arthur W. Page Center Awards Dinner. My name is Bill Nielsen and it is my great privilege to chair the advisory board of the Page Center. You'll be meeting my colleagues on the board in a few moments.
Tonight we are launching an important and exciting new program, and recognizing three people who have demonstrated integrity in public communication throughout their lives of work.
We are very pleased that you joined us to honor these individuals and to celebrate the mission of the Page Center, which is to advance and promote integrity, responsibility and the highest ethical standards in communication with the public.
We are all very pleased to have Harold Burson with us here tonight. Harold became an icon of integrity before many of us were born. He just turned 96 so, I think a warm greeting is in order. (The audience sings a lively rendition of "Happy Birthday" to Harold.)
I'm joined on stage tonight by Marie Hardin, dean of the College of Communications at Penn State University.
I'd like you to know how pleased those of us in the field of public relations are to have this unique relationship with her College. While the Page Center was made possible by Larry Foster, whom we will also be honoring tonight, it has been Marie's dedication and commitment to the Page Center, first as its director and now as dean of the College, that has enabled us to reach important milestones in the fulfillment of Larry's vision and the potential for the Center.
You may not know that Penn State's College of Communications is the largest nationally-accredited college of its kind in the nation with more than 3,000 undergraduates in five majors – public relations, advertising, film-video and media studies, telecommunications and journalism.
In the Hearst Journalism Awards, the so-called "Pulitzers of college journalism," Penn State's College of Communications can consistently be found in the top 10.
Now 22 years old, the college is a prestigious center of research and learning and its graduates are making their marks in business, media and society across the country.
Marie, it is a genuine pleasure to be able to work with you – and to be influenced by your enthusiasm for the disciplines that engage many of us in the room tonight.
You know, behind every group of successful, well-intentioned people, you'll find a passionate, driven, persistent, high energy person who makes things happen. We are so fortunate to have such a person at the Page Center. Denise Bortree, Doctor Bortree, is an associate professor of the College of Communications and for the past couple of years, in addition to teaching and everything else she does so well, she has been the director of the Page Center. She is a compassionate advocate of everything we are trying to achieve. Her boundless energy comes from bike riding and she doesn't let any of us rest for a minute. For all of that, we are very thankful.
So, we are gathered here tonight in the name of integrity in public communication. I must say that as we began planning this event, we didn't realize how timely and important such a commemoration would be. But, given the recent clamor over our political process, the explosion of fake news, disinformation, alternative facts and other distortions to truth in communications, in all its forms, media and social media, we believed it was time to stand up, publicly, and talk about the importance of integrity in communications with the public.
We have chosen to do this by identifying individuals who, throughout their careers, have adhered to the highest standards – people devoted to the belief in the public's right to know, and to the ideal that communicating in a free society is a privilege, not to be taken lightly or corrupted. And, what better standard bearer than our founder, Lawrence G. Foster?
By identifying and honoring such iconic figures, tonight, and in years to come, we hope to establish case studies of role models for students and others who choose to take up the discipline of public communications, in any of its forms.
This event is unique in that our intent is to recognize people across a broad spectrum of public communications – public relations, marketing, advertising and journalism.
We are including journalists because we respect and honor the independence of the free press and the rights and guarantees provided under our Constitution.
As public relations people, we have a responsibility to those individuals and their organizations – journalists and media companies – who exercise the right to inquire and to report about matters deemed to be of interest to the public.
We must be responsive and timely in answering legitimate inquiries about the individuals and organizations we represent.
We believe our responsibility to the media includes being respectful of the highest journalistic standards. I was raised in this field at a firm called Carl Byoir & Associates.
Harold Burson will remember that our firm had a full-time editor, John Stahr. No piece of copy left that agency without first passing Jack's eye and his demands for the highest journalistic standards. So, the imperative of integrity in public communication has been strongly held by me and many others who have practiced public relations.
As public relations people, we must honor and be held accountable for the principles and the ethical standards that underlie what we do, and the manner in which we practice. These include principles of practice inspired by the career of Arthur W. Page, an icon in his time who believed public permission – based on public understanding – was the key to business success.
What journalists and public relations professionals share is a duty to truthfully and fully inform the public –hence, the imperative for integrity in public communications. We believe the truth and fact-based reporting should be the irrefutable standard for all who take on the responsibility of communicating with the public. This is the standard we hope to encourage in all who enter this field.
This was Larry Foster's vision and intent in creating the Center he named for Arthur Page.
We believe the three individuals we are about to honor reflect this vision through their work and deserve our respect and admiration.
2017 Arthur W. Page Awards honorees:
As many of you know, Larry worked as a news reporter and editor for two daily newspapers, and then in 1957 began a 33-year career at Johnson & Johnson where he rose to the position of corporate vice president of public relations. It was my privilege to succeed him. During his tenure, Larry led the highly acclaimed response to the company's Tylenol crisis in 1982. Larry is considered one of the most influential figures in communication in the 20th Century, and he was well known for being a man of integrity.
Johnson & Johnson agreed to produce a video for our event to help explain the purpose of the Center and how it embodies the spirit that Larry left behind. We would like to share it with you now.
Thanks, again, to Johnson & Johnson for producing that wonderful piece.
To present our first award of the evening, I am pleased to introduce Roger Bolton, a member of our advisory board and president of the Arthur Page Society. Roger was Chairman of the society some ten years ago at the time the Center was developing. Larry asked him to join the advisory board and from that day to this, Roger has contributed in many ways to the success we have enjoyed. Roger, we are very grateful for all you have done for the Center and for our profession.
Closing Remarks
This has been a great evening. I think we have all been moved by the thoughts shared by our honorees, and we thank them for that.
I truly believe the field of public communication is a calling.
There is a great deal of disruption in our society today and we are at the center of the moment with the skills to help find the way forward. We need to listen carefully and hear clearly the voices of every constituency. There is great disaffection – and yet we know there is also great promise.
The times demand the very best from us. Let's commit to meeting that demand to answer our calling with the unique skills we have and the values we hold.
This is the promise of integrity in public communications. And it is too big to fail.
We hope to see you all next year when we honor others for their distinguished careers.
On behalf of the Arthur W. Page Center and my colleagues on the advisory board, Thank you all for being here tonight. Safe travels and good night.
These remarks were written by Bill Nielsen, Page Center advisory board chair and Former head of communications at Johnson & Johnson. He shared these words with nearly 230 public relations professionals and journalists at the Arthur W. Page Center Awards for Integrity in Public Communication on Feb. 22 in New York City.
Pictured: Dick Martin (left), Bill Nielsen, Ann Barkelew and Denise Bortree (right).