Tweet
Follow @ThePageCenter
Remarks from Lisa Davis, friend of Page Center Awards honoree Gwen Ifill
March 5, 2018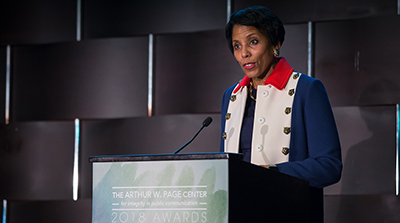 I'm thrilled to remember my good friend and role model this evening. Her achievements were impressive but I won't list them tonight – I commend to you the Arthur Page Award citation, which offers a thorough justification for this honor.
Instead, I'd like to convey my own experience of Gwen.
We met when I joined WABJ – the Washington Association of Black Journalists. Unexpected because I was never a journalist. Yet, I was fortunate to find life-long friends who cared passionately about their craft and cared passionately about helping others in the profession – especially those of color.
One of her colleagues, Kevin Merida – a long-time editor at the Washington Post and presently, ESPN SVP and editor-in-chief of "The Undefeated," referred to her as a unicorn – in her case, a female African-American journalist on a national stage when such people were simply unknown in that context. Well, Gwen was a unicorn for me and others, too. Collectively, her best personality traits made her one.
One such trait was her sense of adventure.
Now, we all want to believe we're adventurous. But that world is available only to those possessed of courage and perseverance – the price of admission if one is ever to know the surprises and delights of an adventurous life. If you are easily thwarted or intimidated, adventure is a hand you cannot expect to be dealt.
Gwen possessed those qualities in excess. Many of you have heard the story of how she got her first job out of college, at the Boston Herald-American. I won't detail the story this evening because elements of it are ugly and we are here to celebrate. Suffice to say, Gwen was impossible to intimidate and was never one to be thwarted.
In fact, she had a talent for turning disadvantage into strength – a talent that translated into a list of career firsts: First black woman to host a national political news show; First black woman to moderate a vice presidential debate – in 2004, and again in 2008.
And this brings me to another of Gwen's great strengths – perhaps her greatest strength; her ethics; her values; in a word, her character.
On a personal level, I was always struck by how her character expressed itself in kindness and humility. That was, perhaps, most clearly reflected in how others related to her. Now, it is a very human trait to project onto people we admire those qualities we most flatter ourselves into believing we have.
Gwen would relate how people would sometimes come up to her, claim to know her – though they couldn't quite place her – then attempt to prove their relationship by describing themselves.
Always charitable, Gwen attributed their mistake to her television appearances. Having known Gwen, I suspect something different. I suspect people were simply drawn to her because they felt a closeness – a kinship – with her. If I'm right, that is a compliment in fact that one could never top in words.
On a professional level, her character expressed itself in objectivity and fairness.
Did she have political opinions? Well, she was an American, so of course she did. But you could never tell what they were while she was on the clock. And this made her "old school" in journalism's best tradition. In this sense, her example is sadly growing rarer every year. But, commensurately, it enhances her status as a unicorn.
A unicorn and a trailblazer. So many people just like me owe her so much. But I wonder how she would react to this wonderful award. Obviously with grace and gratitude. But I think she would also credit her family, and her Christian faith, and her colleagues, all of which contributed so much to her character. And let's remember that accomplishments happen downstream of character.
So much so, that she continues to inspire her fans in incredible ways.
So, on behalf of Gwen's memory, and all who loved and respected her, thank you to the Arthur W. Page Center for Integrity in Public Communication for this wonderful and important award.
These remarks were written by Lisa Davis, who accepted a 2018 Larry Foster Awards on behalf of her long-time friend, the late, great journalist Gwen Ifill. Davis shared these words with more than 200 public relations professionals and journalists at the Page Center's second annual awards dinner on Feb. 21 in New York City.